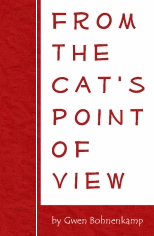 Start Training Today
get the book now at amazon.com
Start reading the 102 page
Kindle ebook in just a few minutes!
No Kindle? No Problem... learn more
"Gwen has done us all a favor with her new book on cat training and behavior. I put her in the Top Ten in the quite specialized field of feline behavior."
Cat World International Magazine
"From the Cat's Point of View answers nearly every question the new cat owner could have and gives the experienced cat owner a look at life from the other side of the scratching post."
The Abyssinian Cat Club of America
About the Author
Gwen Bohnenkamp has been providing behavior consultation and training services since 1985. She instructed the first university level course in Applied Animal Behavior at San Francisco State University. Gwen established and directed the largest and most comprehensive animal behavior correction program in the United States at the San Francisco SPCA. Her program has served as a model for humane organizations throughout the USA, Canada and abroad. Gwen's book From The Cat's Point Of View, has been translated into Japanese and German.
Recommend this book... share with friends



Back to Top